Very Low-Profile Aluminum Electrolytics
Featured Product from Cornell Dubilier Electronics, Inc.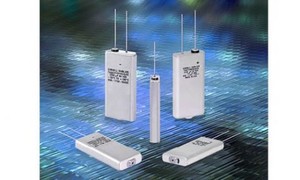 Thin profile, offers the highest energy density available in aluminum electrolytic technology
Its 85 ºC THA Series Thinpack capacitors are only 8.2mm thick, and 9mm for the 105 ºC THAS Series. This is comparable in height to V-chip electrolytics, tantalums and board-mounted axials, yet offer much higher bulk-storage energy density. A single THA/THAS capacitor can replace an array of SMT, axial or radial aluminum electrolytic or solid tantalum capacitance arrays. That substitution can allow engineers to design smaller products with simplified assembly and higher reliability.
The THA/THAS Series design is radically new, yet based on CDE's 20+ years of experience with MIL-grade flat electrolytics. Reengineered to be thinner and more cost effective, it is a good fit for many of today's high-performance electronics. Unlike traditional cylindrical electrolytics, a THA/THAS capacitor has a sealed, laser welded aluminum case that eliminates the need for space wasting end seal gaskets. The design includes a valve to vent hydrogen gas, reducing swelling by relieving internal pressure.