Coto Expands Economy SIP Series
Product Announcement from Coto Technology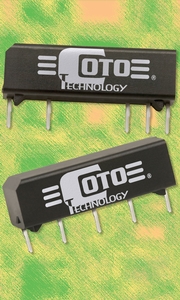 Coto Technology has expanded its 9081 Spartan SIP Reed Relay Series by adding two new Form C versions into this popular SIP package. The 9081C has a .2"x.4"x.1"x.1" footprint while the 9081C1 has a .2"x.2"x.2"x.2" footprint. By offering both pin configurations, Coto is able to match any competitor offering similar products.
The 9081C reed relays contain Coto's popular RI-90 Form C reed switch - one that is known for its high reliability. The SIP relays are sturdy and well suited for a wide variety of applications in Security, Instrumentation, and Process Control. Parts are available in the standard plastic molded version or with an optional external magnetic shield to reduce interaction of relays mounted closely.
9081C and 9081C1 relays sell in 1000 pc qty for $1.69 and are available in 5V, 12V or 24V coils. Delivery is from Stock to 6 weeks ARO. For more information, visit www.cotorelay.com.
---