Foam Profiles for Thermoplastic Extrusions
Product Announcement from Crescent Plastics, Inc.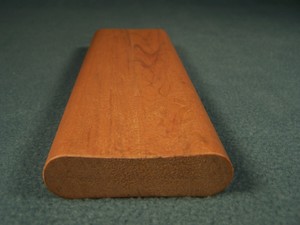 Crescent Plastics has extensive experience in the development of foamed materials for thermoplastic profile extrusions. Utilizing various thermoplastic materials, including HIPS, ABS, PVC, and HDPE, Crescent has developed a process to produce light weight, high strength profiles. With a density similar to wood, parts produced from this process can be colored with a wood grain appearance and used as a wood replacement.

Perfect for applications that require light weight parts with strength and durability, such as Rub Rails, Moldings, Trim, and Structural Members, a foamed plastic part can provide product enhancement at an affordable cost.
Crescent Plastics has over 63 years of design and production experience producing unique and technically advanced products. Let us help you optimize your concept to create the most innovative and distinctive product possible.
For further information please contact via email or call 812-428-9339.
---