Frosted Acrylic Lenses For LED Lighting
Product Announcement from Crescent Plastics, Inc.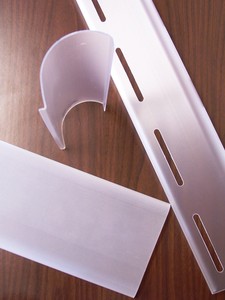 Yet another breakthrough in thermoplastic extrusion, Crescent Plastics has developed a new formulation which creates a uniform frosted appearance in acrylic that can be used for an aesthetically appealing surface appearance. Frosted acrylic lenses to radiate diffused lighting for LED light fixtures are just one example.
Not just a pigment, the formulation actually creates a surface texture that simulates a frosted finish which can be used for decorative effects as well.
And...a frosted acrylic part can provide product enhancement at an affordable cost.
Applications (a few examples):
LED Lighting
Fluorescent Light Fixtures
POP Fixtures and Displays
Decorative Panels
Crescent Plastics has over 62 years of design and production experience and, once again, have proven themselves as an innovator in the field of plastic extrusion.
---