Evaluation Kits Available for Canon Image Sensors
Featured Product from Critical Link, LLC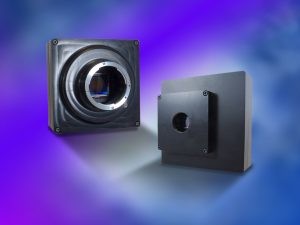 Critical Link's Evaluation Kits Available for Canon Image Sensors
Critical Link, LLC, a leader in embedded solutions, and Canon U.S.A., Inc., a leader in digital imaging solutions, are pleased to announce availability of Evaluation Kits for two of Canon's latest CMOS image sensors: the 120MXS, a 120MP CMOS sensor; and the 3U5MGXSBA, a 5MP global shutter sensor.
As previously announced, the companies have been collaborating on development of Sensor Evaluation Kits for Canon CMOS sensors. The kits allow developers to test sensor features and performance to ensure a fit with their application. System designers gain access to assets that accelerate development time, including complete sensor board design files. For applications that require on-board image processing, the Evaluation Kits feature an open architecture design, with the option to embed processing and software with the on-board CPU and FPGA fabric.
Evaluation Kits consist of a camera with a pre-installed Canon CMOS sensor, and include:
Accessory package for out-of-the-box operation (quick start guide, power supply, cables)
Embedded software to setup the sensor, acquire image data and communicate over USB 3.1 interface with any USB 3 compliant UI
PC-based UI application available for download to communicate with the camera
Sensor board design files and source code*
VHDL code for the FPGA*
Evaluation kits for the 3U5MGXSBA and the 120MXS are expected to begin shipping in November. Orders can be placed through Canon's website, or with an authorized distributor.
A third evaluation kit is in development for Canon's 35MMFHDXS_A, a 19 μm, 2.76MP sensor with extreme-low-light sensitivity. Availability is projected for early 2020.
Visit Canon USA for information on new sensors and to reserve an Evaluation Kit.
Visit Critical Link for information about our embedded solutions and engineering capabilities.
Critical Link
Critical Link develops embedded solutions – System on Modules (SOMs) and Imaging Platforms – for a wide range of electronic applications. Since 1997, our engineers have been helping customers bring products to market more rapidly and at lower cost than they could if they developed the entire product, from scratch, on their own. And we do so while ensuring the performance demanded in today's industrial applications.
We pride ourselves on developing partnerships with our customers. We are vested at the start of every project, knowing today's prototype is tomorrow's product launch, and that our success is dependent on that of our customers'. And because our engineering team is larger than many OEM engineering departments, you won't compete for access to the engineering skills and disciplines your project needs.
Critical Link, LLC, is headquartered in Syracuse, New York and is privately held. We are a Platinum member of the Intel FPGA Design Services Network and Intel IoT Solutions Alliance, a Platinum Partner of the TI Design Network, and a certified member of the Arrow Consulting Engineering Services (ACES) network, and is ISO 9001:2015 Registered by SRI Quality System Registrar.