Air Quality (CO2, PM2.5, VOC, RH&T) Sensor
Featured Product from Cubic Sensor and Instrument Co.,Ltd.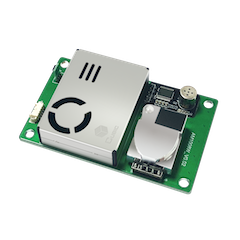 The AM1008W air quality sensor module is highly integrated with PM1.0 PM2.5 PM10 laser particle sensor, NDIR CO2 sensor, VOC sensor and RH&T sensor, which can output digital measurement data. It is with stable performance, compact structure design which can be widely used for IAQ monitor, high-end air purifier, ventilation, air conditioner with purifying function, etc.
Features:
The NDIR CO2 sensor is with high low power consumption, auto-calibration.
With voltage regulator design and EMC compliant, strong anti-static ability.
Highly integrated with sensors including laser particle sensor, NDIR CO2 sensor, VOC, temperature and humidity sensor for option.
Ultra-thin(height is only 12mm)
Plug and play