Dust Sensor for OAQ Monitoring
Featured Product from Cubic Sensor and Instrument Co.,Ltd.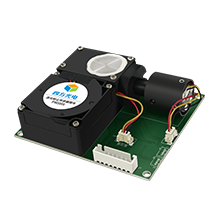 Laser Particulate Matter Sensor for Dust Monitoring
PM3006T is a linear light source-based particle sensor module with laser scattering technology. It is designed to measure the quantity per unit volume of different particle size and can output particle mass concentration PM1.0, PM2.5, PM10 in μg/m³ at the same time via mathematical algorithm and scientific calibration. Built-in Cubic intelligent identification for different air/dust source that could automatically identify dust source and ambient air to give accurate measurement.
PM3006T be widely used for emissions monitoring, construction monitoring, mining site monitoring, port and bulk handling terminals, fence line monitoring, brownfield developments and other outdoor air quality monitoring.
PM3006T Main Features
PM1.0, PM2.5, PM10 Simultaneous Output
API (Auto Particle Identification) Technology
Constant power laser diode
Constant RPM speed for fan
Small particle correction technology
Working temperature range could reach -40~85°C
Longer lifetime with laser diode MTTF>110,000 hours
Anti-Dust structure design to prevent dust accumulation
For more questions please email to info@gassensor.com.cn
Or visit official web: http://en.gassensor.com.cn/