Laser Particle Sensor Module for Cleanroom Monitor
Featured Product from Cubic Sensor and Instrument Co.,Ltd.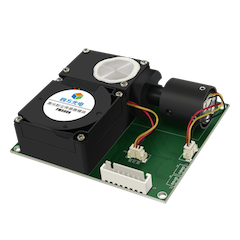 The PM5000 laser particle sensor module is based on laser scattering technology, with strong fan and better laser module, it which can accurately detect and calculate the number of suspended particles with different particle sizes in the air per unit volume. It can simultaneously output the number of particles in 6 channels including 0.3um, 0.5um, 1.0um, 2.5um, 5.0um and 10um (PCS/L) for clean room monitoring and DCV systems.
Features:
Better laser diode, strong fan with optimized optical design give accurate measure.
Stability: Constant current fan sampling structure.
Signal output: UART-TTL, I2C (RS485, 4-20mA can be customized).