Converted Components for the LED Lighting Industry
Service Detail from Custom Fabricating & Supplies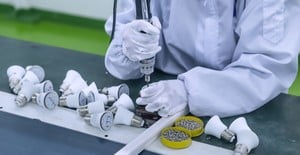 CFS is a proven provider of thermal pads, gaskets and grommets to the LED lighting industry. We manufacture custom converted components for the long-term performance of LED lighting applications.
Thermal Interference Materials (TIMs) are vital components in LED lights. TIMs help preserve LEDs by managing the heat produced by the diodes. CFS provides custom die-cut, thermally conductive materials which are utilized over greases and liquid adhesives due to the ease of handling and optimal performance.
Outdoor LED light enclosure gaskets are required to seal out water, wind and dust. CFS utilizes materials that stand up to the requirements of high performance, long-term compression and weatherability. Pressure sensitive adhesives are available on all our component gaskets and die-cuts for easy placement.
Choosing the correct electrical insulation, EMI/RFI shielding and flame-resistant barrier protection is essential for proper thermal management and longevity. Die-cut flame barrier materials are thin and lightweight with a high resistance to flammability and ignitability.
Contact us for more information on our converting capabilities of 3M materials suitable for this application.