Blow-Molded Wheels
Featured Product from Custom-Pak, Inc.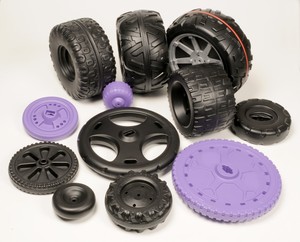 Blow-molded wheels are lightweight, economical and extremely durable. They are used on carts, tool chests, toys, refuse containers, lawn and garden products and in sports, recreational, marine and industrial applications. Custom designed wheels range from tiny rollers to wheels that could fit the family SUV. For smaller quantity applications select from our standard wheels in diameters from 6"- 10" with hubs to fit axle sizes from 5/15" to 1/2". Custom-Pak can build the perfect wheels for your application. Select from custom designs or stock sizes.
Custom-Pak is one of the world's largest industrial blow molded parts manufacturers and a leading provider of advanced blow molding technology. Custom-Pak designs and builds energy efficient blow molding machines and sophisticated blow molds. We produce a wide array of blow-molded products in six manufacturing plants. Our plants are modern, clean and non-polluting. We offer responsible, world class services and unbeatable value.