Blow Molded Reservoirs and Tanks
Service Detail from Custom-Pak, Inc.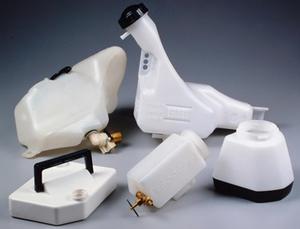 Blow molding is the most economical and versatile method for producing reservoirs and tanks. Shapes can be molded to fit into the most unusual spaces and still maintain tight tolerances. The tanks can have a variety of cap, valve, hose and gage features.
Blow molded parts are more than just a great value. They are easily customizable, visually striking, and very durable. Whether you've sourced blow molded parts in the past or are just beginning your research, it's important to know the basics. Read our "5 Blowmolding Facts You Need to Know"
Contact us today to discover the value we can provide on your next tank project.