Blow Molding
Service Detail from Custom-Pak, Inc.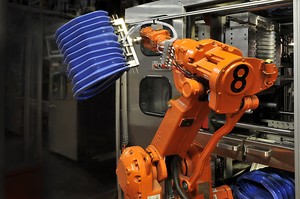 Custom-Pak is one of the world's largest industrial blow molded parts manufacturers and a leading provider of advanced blow molding technology. Custom-Pak designs and blow molds more products used in more market applications than any other blow molding company. Custom-Pak also designs and builds the machines and molds that produce your blow-molded products giving you faster results, better quality and lower costs. At Custom-Pak, we have the capabilities to meet all of your needs on time and with consistently great quality
Blow molded parts are more than just a great value. They are easily customizable, visually striking, and very durable. Whether you've sourced blow molded parts in the past or are just beginning your research, it's important to know the basics. Read our "5 Blow Molding Facts You Need to Know"
We produce blow-molded products in six manufacturing plants with over 200 molding production lines. Our plants are modern, clean, safe and non-polluting. All plants are ISO2001-9008 registered. An automation technlology group assures low cost, repeatable results. Custom-Pak offers ethical, responsible, world class services and unbeatable value. .

Play Blow Molding Video