Choose Custom-Pak for Medical Product Packaging
Featured Product from Custom-Pak, Inc.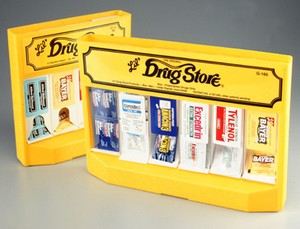 Medical Products
There are only a handful of blow-molding companies that produce parts that consistently meet the demands of medical products companies. Custom-Pak is one that builds trust by consistently delivering top quality products at great prices. We understand the complexity of your needs and we meet them with controlled systems that help build loyalty to your brand.
Healthcare Equipment
Stretchers, walkers, wheelchairs, stools, special support devices and protective cushions are just a few of the healthcare products that can contain blow-molded components. Look into the value that blow molding can bring to your healthcare products today.
Pouches & Packaging
Disposable pouches and special bags with fittings are commonly blow molded to contain and dispense medical solutions. Clamshells, storage cases and reusable packaging are commonly blow molded for medical instruments and procedure kits. Custom-Pak can help design the package that will make your product the easy choice for busy medical professionals.
Protective Devices
Sharps, bio-hazardous waste and other hazards are facts of modern medicine. Blow- molded parts from Custom-Pak can provide safe methods for handling, storing or disposing of hazards. Let our engineers provide a design for your next generation protective device.
Compliance
Custom-Pak has registered with the FDA as a medical device manufacturer. We follow the strict quality guidelines established by the FDA. We also take the extra steps to make sure your products are the best. We maintain complete device history files so component traceability is never a problem. We understand the need for perfection in medical products and deliver the best.
Custom-Pak designs and builds the machines and the molds that produce blow-molded products. We remove typical limitations to give you faster results and better quality than any other molder. Click on the links above to discover the advantages that Custom-Pak can offer.
Markets & Products:
Carrying Cases & Packaging
Blow-molded packaging provides the best packaging value. A huge selection of materials, features, colors, hardware, accessories and decorating options lets you build a perfect package. Mold investment is low and the blow-molding process offers the lowest unit prices of all molded packaging options. Use the links below to find out more.
Hardware, Lawn & Garden
Blow-molded products are ideal for rugged-use applications. The hardware, lawn & garden and home improvement markets have proven a preference for the durability of blow-molded products over many competing processes. Just a portion of the broad appeal of blow molding is shown below. Let our experts help improve your product appeal.
Furniture & Seating
Furniture and seating makers have discovered that blow-molded parts can be stronger than steel and yet, light enough to float. We can design independently from one side of a surface to the other, change material stiffness in an existing design and inexpensively create amazing free-form shapes. Custom-Pak can help generate the furniture and seating concepts that will put you years ahead of your competition.
Appliance Parts
New blow-molding technology provides close-tolerance repeatability never before possible. This allows designers to create molded component parts that seamlessly integrate with electro-mechanical systems. Several critical functions can be combined into a single piece. You get a functionally superior appliance that costs less to produce.
New surface finishing techniques provide attractive and durable parts that consumers see as stylish and rugged. Improved functionality and great appearance makes blow molding the appliance designer?s process of choice.
Sporting Goods
Sporting goods manufacturers turn to blow molding for quality and durability. Double-wall blow-molded parts are light and strong for athletes and sportsmen. The blow-molding process is ideally suited for rugged outdoor products. The examples below are just to get you thinking. Our sporting experts will be happy to show you the benefits that blow molding can provide in your products.
Transportation & Automotive
The transportation industry evolves quickly. As vehicle engineers learn about the latest advances in blow molding, more parts made by that process appear in new vehicles. Blow molding provides the perfect combination of structural strength, impact and chemical resistance, and low costs for both tooling and parts.
Housing & Construction
Blow molding works hard in the construction industry. Almost all heavy equipment contains blow-molded parts. Blow-molded forms help shape the foundations. And blow-molded parts build homes and offices, while protecting construction sites and keeping workers safe. Custom-Pak can make your construction projects run smoother, faster and less expensively. Let us show you how
Medical Products
There are only a handful of blow-molding companies that produce parts that consistently meet the demands of medical products companies. Custom-Pak is one that builds trust by consistently delivering top quality products at great prices. We understand the complexity of your needs and we meet them with controlled systems that help build loyalty to your brand
Electronics & Utilities
Blow-molded parts can be made with plastics that provide either insulation or conductive properties. PE is the most widely used plastic in gas lines and cable insulation. Blow-molded PE parts provide strength and insulating properties while enabling shapes that make electrical systems work better. Blow-molded parts also keep water treatment facilities running smoothly. Plus, they protect wildlife from unintended contact with the utility systems
Telecommunications
Blow-molded parts serve the telecommunications industry in many ways. They are used in connection panels, terminal boxes, splice covers, domes, markers and other products for copper wire systems. Blow-molded glass fiber connector boxes, light bend radius controllers and other parts help fiber-optic systems work better. Blow-molded parts help protect Microwave and Wi-fi tower equipment for wireless-system providers.
Home & Housewares
Indoor or outside, blow molding makes life better around the home. We produce parts that organize, simplify and make life more comfortable in the bedroom, kitchen, laundry room, work room, patio and around the yard. Blow molding is winning design awards, delighting retailers with low prices and high sell-through and perhaps most importantly, providing great value for consumers. Just a few examples are shown below. Let us show you the advantages of blow molding.
Toys
Smart toy makers know the value of blow molding. With price competition so strong, toy companies need to sustain brand loyalty at the lowest possible cost. Blow-molded parts from Custom-Pak are found in many of the world's best toys. Whether it's a giant play structure or a case for a video game, we can make your product better. Let us work on your next toy project. You'll smile like a little kid.
Chemicals
Blow molding provides the safest containers for shipping and storing almost every chemical compound. Custom-Pak engineers are experts at adding functionality to chemical containers. Our systems provide easier handling, improved shelf life, better identification, lower permeation, controlled dispensing and other benefits that help the package deliver more than just your chemicals. Take advantage of our free design services to see the many advantages blow-molded containers from Custom-Pak can provide.
Food
Blow-molded trays, cases, chests, coolers and containers are found in many food processing companies. Our bottles, cans, pouches and displays are a common sight at the supermarket. Custom blow-molded food containers from Custom-Pak give both processors and consumers the best value. From meeting basic FDA requirements to satisfying challenging handling, permeation and shelf life needs, Custom-Pak is the answer
Signs & Displays
The first generation of blow-molded signs and displays appeared with little fanfare. Now they can be seen almost everywhere. The newer generation is more attention-getting, simpler to set up, requires less maintenance, costs less and outlasts other signage. Don't let customers pass you by. Contact Custom-Pak to see some of the best sign and display designs that are coming soon to locations near you.
Capabilities
Blow molding is a manufacturing process that greatly extends the longevity of molds. It yields unit prices that are so low, it is used to package water. No wonder it has caught the attention of designers and engineers.
Some molding companies have difficulty molding the parts required by customers. At Custom-Pak, we have the capabilities to meet your needs on time, at the lowest price and with consistently great quality. Click on the links to view a few of our many capabilities.
Product Design & Development Capabilities
Custom-Pak pioneered the concept of engineered blow molding. Today, our engineers transform ideas into reality with remarkable speed and accuracy. Our integrated design and manufacturing facilities allow us to design, test and manufacture your product faster and less expensively than many companies can develop a prototype. We also offer a variety of prototype options that can be delivered even faster.
We develop over 200 new blow-molded products per year for our customers.
Our designers and tooling engineers help
CAD communication is offered in nearly any file format - including dxf, iges, unix, parasolid, acis, step, vrml, 2D or 3D solid modeling, in a variety of software including Solidworks, ProE, Unigraphics, SDRC, Autocad and others by modem, email or ftp site.
Our extensive CAD software library includes Solidworks, SDRC Ideas, Camax Command, AutoCad, Vericut, and more. We communicate design details very well.
Our FREE design assistance allows you to consider feature and styling options and to shop and compare without commitment or expense.
Mold Making
Quality products start with quality molds and Custom-Pak makes many of the world's best blow molds.
We offer a complete and modern mold-building center with 24-hour/7-day machine shop operation for fast tool delivery.
Our 30 mold makers utilize modern CNC mills, lathes, finishing equipment and metrology for unsurpassed mold quality and the latest in-the-mold technology.
Molds are sampled and tested to ensure they are production ready. Mold Mold maintenance is guaranteed for as long as the tools are in our possession.
Blow-Molded Products Manufacturing
Custom-Pak offers capabilities not available from others.
Our six modern blow-molding manufacturing plants produce high-quality parts. Three plants are located in Clinton, Iowa, one in Dewitt, Iowa, one in Walnut Ridge, AR, and one in Mexicali, Mexico to provide you with the finest infrastructure and equipment.
Nearly 200 state-of-the-art blow-molding production lines provide both continuous and intermittent extrusion blow-molding processes with six sigma-control capabilities. Parts are made and delivered on time.
Molding plants run 24 hours, 5 or 7 days/week as needed to meet your changing demand.
Approximately 600 blow-molding personnel have the training and the tools to produce your parts to exact specifications.
Machinery Development
Our state-of-the-art process engineering and machinery development center creates some of the world's most technologically advanced molding equipment.
We design and manufacture blow-molding production machines and secondary operations equipment.
We build custom-molding machines for specific product needs, such as multiple materials in each part or special in-press finishing operations.
Special secondary fixtures and equipment precisely assemble, decorate and finish your molded parts. Most equipment is provided at no additional cost.
Ongoing process engineering, control system design and process research provide you with maximum efficiency without variation.
Our cost of capital equipment is lower, allowing us to provide better processing equipment at a lower per-unit cost. Our pricing is a fraction of other processors.
Compounding / Recycling
Custom-Pak has always been active in environmentalism. Our Midwest-Poly recycling facility has been reclaiming waste plastics for over 20 years. Although our manufacturing plants produce virtually no waste, our recycling operation allows us to convert over 15 million pounds of scrap from other manufacturers into high-quality consumer products annually.
Our Midwest Poly division provides material compounding, alloying and pelletizing on two high-volume production lines. We offer a wide variety of recycled material options.
We can provide plastic testing and laboratory-analysis services when your products require special materials-analysis data. We can formulate to meet special demands.
MWP provides material recycling, reprocessing, spill & contamination clean up and scrap reduction services.
With material purchasing, brokering, transportation and storage, we keep your cost of material below the market. We provide top-quality materials at substantial savings.
Quality & Service
Custom-Pak develops, produces and delivers the highest quality products and services in our industry.
You can choose from a complete range of services from low-cost molding to complete project management. We target our processes to your needs.
A huge selection of in-mold and secondary operations are available including various decorating options, assembly, sonic welding, CNC routing and surface treatments.
SPC-based Quality Assurance programs to ISO 9001-certified standards with six sigma and QS 9000 goals, our quality is an industry benchmark and we strive for continuous improvement.
Competitive subcontractors provide painting, injection molding, or metal fabricated components for assemblies. We make sure you get your money's worth.
Specialized pack-out, returnable packaging, warehousing, JIT shipping, air, rail and truck access 24 hours/day assure smooth delivery performance.
Security tagging, RF coding, online or EDI direct-link communications.
Custom-Pak offers a one-stop total package of quality, price and service that is unsurpassed. Our 30-year history assures you of experience and technical capabilities that are unmatched in our industry.
The people at Custom-Pak are always happy to answer your questions. Please let us know
how we can help.