Food Service Packaging
Featured Product from Custom-Pak, Inc.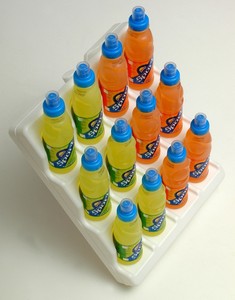 Food
Blow molded food trays, freezer cases, chests, coolers and containers are found in many food processing companies and restaurant franchises. Our bottles, cans, pouches and displays are a common sight at the supermarket. Custom blow molded food containers from Custom-Pak give both processors and consumers the best value. From meeting basic FDA requirements to satisfying challenging handling, permeation and shelf life needs, Custom-Pak is the answer.
Coolers & Displays
Blow-molded parts improve grocery display cases with clean re-usable shelving, drip pans and dividers. Blow-molded coolers can be made in nearly any shape to provide attractive displays for chilled products. In-store displays are easy to erect, signage is easily applied and they're strong enough to survive handling by untrained store personnel.
Packages & Dispensers
Recent awards for best new packages have gone to blow molding for coffee and juice products. The process continues to provide innovation and style for food packaging. Our containers can be used to ship, display and dispense liquids or bulk solids. Discuss your "wish list" with the Custom-Pak design team.
Food Service Products
The restaurant industry needs products that won't impart flavors and can withstand abuse on a daily basis. Blow molded products meet these needs perfectly and can be approved by the FDA for food contact. Whether you are trying to satisfy the executive chef or the bus staff, we provide products that meets their needs.
About Us
Custom-Pak is one of the world's largest industrial blow molded parts manufacturers and a leading provider of advanced blow molding technology. Custom-Pak designs and builds energy efficient blow molding machines and sophisticated blow molds. We produce a wide array of blow-molded products in six manufacturing plants. Our plants are modern, clean and non-polluting. We offer responsible, world class services and unbeatable value.
Blow Molding
Maximum Blow Molding Capability
Custom-Pak designs and builds the machines and the molds that produce your blow-molded products giving you faster results, better quality and lower costs. At Custom-Pak, we have the capabilities to meet your needs on time and with consistently great quality.
Blow-Molded Products Manufacturing
Machinery Development
Mold Making
Automation Technology
Quality
Services & Total Value
Design
Custom-Pak is one of the world's largest blow-molded parts manufacturers and a leader in advanced blow-molding technology. Blow molding produces plastic structures that are stronger, lighter and less costly than competing processes. Our engineers transform ideas into successful products with remarkable speed and accuracy making Custom-Pak the number one source for extrusion blow molded products.
Product Development Leadership
Design for Blow Molding
To Get Started
Blow-Molding Design Guide
Products
Superior Products
Custom-Pak designs and blow molds more products used in more market applications than any other blow molding company. The breadth of experience we bring to every project yields better style, easier operation, improved reliability, lower costs and greater customer satisfaction. This product gallery is only a sampling.
Carrying Cases & Packaging
Consumer Products
Industrial Parts
Contact Us
The people at Custom-Pak are always happy to answer your questions. Please let us know how we can help you.