Save with Blow Molded Tanks and Tubes
Featured Product from Custom-Pak, Inc.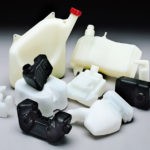 Blow molded fuel tanks, oil reservoirs, pressure tanks, chemical containers & dispensers are purpose-built to exacting tolerances and extremely durable. Custom-Pak is a leading producer of blow-molded tanks, tubes and ducts with experience with nearly every configuration, technique and application.
Custom-Pak was one of the first companies in the world to obtain both EPA and California Air Resources Board certifications for blow molded fuel tanks. We produce a wide variety of fuel tanks and we are unbeatable in tanks under 10 gallons. Custom-Pak has the technology to make almost any shape, including shapes that others find impossible to make.
There are dozens of design details that we can incorporate into your ducts or tubes to eliminate add-on components and assembly. Most configurations can be completely finished in-mold so secondary labor costs are eliminated. Let Custom-Pak show what you have been missing.
Blow molded parts are more than just a great value. They are easily customizable, visually striking, and very durable. Whether you've sourced blow molded parts in the past or are just beginning your research, it's important to know the basics. Read our "5 Blow Molding Facts You Need to Know"
Custom-Pak is one of the world's largest industrial blow molded parts manufacturers and a leading provider of advanced blow molding technology. Custom-Pak designs and builds energy efficient blow molding machines and sophisticated blow molds. We produce a wide array of blow-molded products in six manufacturing plants. Our plants are modern, clean and non-polluting. We offer responsible, world class services and unbeatable value.