BLENDING, COATING and BATCHING by CPS
Service Detail from Custom Processing Services, Inc.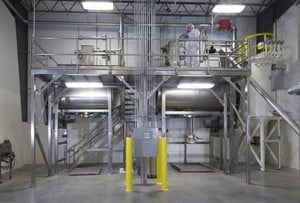 Also known as contract manufacturing, toll manufacturing, and contract processing, toll processing, or tolling, can be defined as performing a service on a customer's product for a fee.
The advantages of using a toll processor such as Custom Processing Services are:
no capital investment required
the power to tap into the expertise of seasoned processing professionals
the variety of equipment that is available
the ability to change production quantities to meet market requirements
the benefit of a processor whose management system is registered to the ISO 9001 standard by SAI Global.
the strength of an organization that follows cGMP and has an established HAACP system.
Blending
double ribbon blender, 100 cu. ft. working capacity
300 cu. ft. stainless steel double ribbon blender
100 cu. ft. carbon steel double ribbon blender
30 cu. ft. stainless steel double ribbon blender
3 cu. ft. double stainless steel double ribbon blender
Coating
heat treating

new PLC controlled reactors
300 cu. ft. production model
3 cu. ft. testing capacity

silanation
coating
Batching
Loss in Weight Batching
automated
PLC controlled
up to 10 components
very tight weight tolerances
Custom Processing Services is a Contract Manufacturing Service provider provides a range of coarse sizing services which can produce material in 24-inch to .0017-inch particle sizes. Methods used to achieve Custom Processing Coarse Grinding results include impact crushing, grinding, and pulverizing.
---