Pigment Grinding for Paints and Coatings Industry
Service Detail from Custom Processing Services, Inc.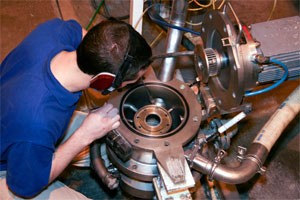 Custom Processing Services can:
Grind pigments and fillers to specifically tailor them to client paint product requirements.
Provide packaging services in customer-supplied bags and/or pails or in CPS-provided packaging.
Pre-blend dry ingredient raw materials in precise formulas.
Produce dispersions to exacting client specifications.
Grind mineral fillers to nanosize through media milling.
Manufacture both aqueous and solvent-capable slurries.
Apply surface treatments, including silanation, to particles.
Partner in R&D activities.
Serve as a pilot plant for new products.
Be a source for various types of milling equipment.
"Mildicide" is a new term or name given to products that are used in dealing with mold or mildew contamination. They are sometimes called "mildewcides."
Products We Process
extenders
waxes
mildicides
hardeners
mineral fillers
lubricants
pigments
polyethylene
PTFE
specialty chemicals
---