NEW! Customizable Embedded Control Platform
Product Announcement from Cyth Systems, Inc.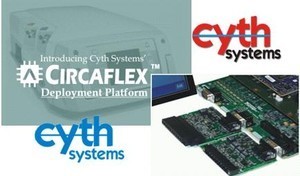 If you are in the process of developing a product which includes a real-time embedded processor with sensor and signal I/O you really must consider Circaflex as your platform of choice. Whether you are just starting or are preparing for a transition the time is right to see if Circaflex is right for you.
Cyth Systems introduces the Circaflex platform, a ready-to-use circuit mainboard that is designed for not only rapid development but is robust and complete enough for immediate deployment without custom circuit design.
The Circaflex package consists of three main components in a single board package:
Real-Time processor and OS
The first component is a 32-bit microprocessor capable of complex computations and memory. Powered by VxWorks, the industry's most stable and widely used Real-Time OS (RTOS), reliability is assured but does not require low-level knowledge of the architecture.
FPGA High-Speed Reliable I/O
The second element is a Field-Programmable-Gate array, a single microchip capable of accepting instructions nearly to the transistor level, allowing developers to program logical operations and decision making all in silicon. Such operations can be executed at 20MHz (5 ns) making an extremely high-speed response for safety and control applications.
Windows Embedded RTOS
The third component in the Circaflex product is a computer-on-a-module (COM) with an Intel Atom processor running Windows XP Embedded (WinXPe). This choice provides the system with a rich selection of peripherals, drivers, and services that can deliver all the expectations of modern devices. Running webservers, storing data on SATA hard-drives, and running interfaces in Java or Flash are just a sampling of the options available with Circaflex.
About The Company
Cyth Systems is a leading integration and engineering firm in Southern California with a proven track record of success designing and building automated test systems, machine vision systems, data management systems, and embedded control systems. Cyth differentiates itself by creating purpose-built systems using 95% standard products as building blocks across both hardware and software aspects of a project. The resulting product is maintainable, flexible, reliable, and achievable within time and budget constraints.
Cyth Specializes In:
Automated Test Engineering & Functional Test
---