Rotary Bi-Stable Solenoids
Product Announcement from DACO Instrument Company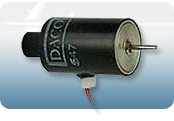 Our new bi-stable design fits all your power requirement specifications. These units are customized for low power / battery operation and low vibration / shock environments.
These are highly reliable and available in a wide selection of models, sizes and mounting features. Contact us for more information.
Specifications
Below are specifications for two standard solenoid models we manufacture. Our core focus is to provide customized solutions - all built to the most exacting client specifications. So if you don't see what you're looking for, contact us for more information.
Diameter 0.38" 0.50"
Lengths Available 0.57" 0.80"
Power Input Range DC - 0.5 to 1 watt @ 25ºC DC - 0.4 to 1.3 watt @ 25ºC
Operating Voltage DC operation: up to 45 volts DC operation: up to 45 volts
Rotation 30 to 60º CW or CCW Standard Tolerance + 2.5 30 to 60º CW or CCW Standard Tolerance + 2.5
---