DBK Thermoelectric Coolers
Product Announcement from DBK USA, Inc.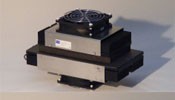 DBK's thermoelectric cooling modules provide compact cooling. The standard Air to Air cooling range, known as "Stratus" feature models with cooling powers from 40W to 180W. These units are flexible and easily modified. The versatility of DBK's cooling modules allow for easy integration into existing equipment. For special applications that require extensive modifications, including liquid to air, liquid to liquid and direct cooling, please contact us. DBK prides itself in its ability to provide custom heating and cooling solutions.
Applications:
Control Panels/Outdoor Enclosures
Analysis/Medical Instrumenta on
Industrial Instrumenta on
Food and Beverage Cooling
Telecom Cabinets
---