Grinders Available With Touchscreen HMI Controls
Featured Product from DCM Tech Corp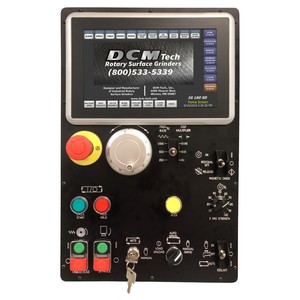 As we reach a time where many of our seasoned machinists are starting their migrations to their retirement homes in the South, it is more important than ever to have machines that are easy to operate. DCM Tech has developed new HMI controls with an easy to use, conversational touchscreen interface.
Change any setting on the operation screen by simply tapping the number to be updated and making the change. Easily keep an eye on the real-time load monitor and grind progress by switching screens with the tap of a button. This screen also features automatic scheduled maintenance reminders so the operator can keep the machines running at maximum performance.
Most DCM IG series grinders can be retrofit with this new technology. If you already have a DCM style grinder and are interested in making this, or any other upgrades, give us a call!