Big Power. Small Footprint. The DCM IG 080 M.
Featured Product from DCM Tech Corp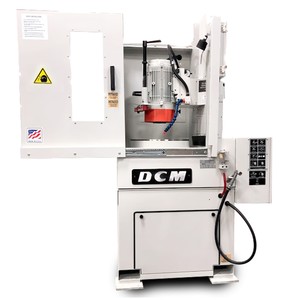 The IG 080 M has all the benefits of a BIG rotary surface grinder but with a small shop footprint. The 18" rotary table and 10HP grinding spindle motor provide strong straight forward grinding performance for rough grinding as well as mid-tolerance work.
This machine is available with a low open or fully enclosed shroud based on your preference. A 15 gallon coolant tank and 20gpm coolant pump filter and collect coolant for cleaner, consistent grinds. Ask about specialized workholding systems to fit your fixturing needs.
18" variable strength electromagnetic chuck with auto demag cycle
10HP grinding spindle motor
Optional full enclosure to aid in keeping a clean shop environment
Graduated feed dial for setting feed amount and grind depth readout
Rapid head positioning
15 gallon coolant capacity w/ basket style coolant filtration
PLC control technology system
Weight: 1,800 lbs (estimated)