Decrease Lapping & Polishing Time
Featured Product from DCM Tech Inc.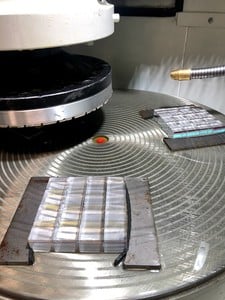 DCM style rotary surface grinders have the power to quickly remove large amounts of stock but also feature a servo driven Z-axis for precision finishing on materials such as glass, sapphire, quartz, aluminum, steel, ceramics, and more. Variable speed tables and spindle motors allow the operator to dial in different perameters for up to three sequential grinds. This gives the operator the ability to rough and finish grind without getting dirty.
The ability to grind with this precsion means there is potential for removing some other finishing, polishing, or lapping processes from the production process. DCM style grinders can handle large batches of jobs to help reduce production bottlenecks that can often be cuased by old, clunky grinding machines.
DCM style IG series grinders feature variable speed electromagnetic chucks with thru-table vacuum/pressure ports, variable speed grinding spindle motors, manual pulse generator handwheel for precise Z-axis positioning, integral mist collection systems, coolant filtration swarfs and pumps, optional touchscreen HMI controls, and more.
Available with 18" - 48" tables, 10HP - 50HP grinding spindle motors, and more features for adding efficiency and precision to your production line.