HB3810: Reciprocating Table Milling Machine
Featured Product from DCM Tech Corp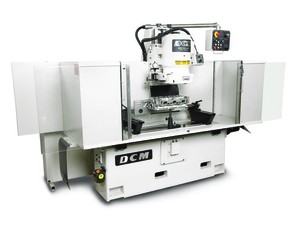 The DCM HB 3810 is specially designed for cylinder head and block and engine component resurfacing on aluminum or iron. This powerful and precise machine allows you to offer this service in your shop instead of waiting for these kinds of parts to be resurfaced elsewhere.
This machine features hand scraped ways, dovetail column, heavy cast iron base, and an industrial grade milling spindle which is the "foundation of precision" for this premium quality mill. DCM Tech manufactured spindle motor assemblies are fitted with high precision angular contact bearings and are supported in precisely machined cast iron housings. Additionally, the rotors are balanced, assuring long life and smooth performance. Table traverse is driven by a precision ballscrew for smooth consistent movement.
A CBN/PCD milling head is standard equipment, and rapid mount head and block fixtures are all available. Check out our entire line of Flywheel Grinders, Brake Rotor Grinders, Magnetic Particle Inspection Systems, and Automotive Rebuilding Products, tooling, and supplies.