MPI System 4562 AC/DC
Product Announcement from DCM Tech Corp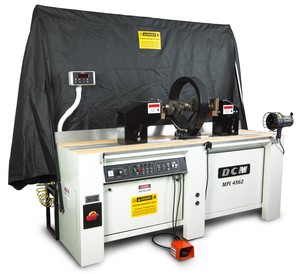 Inspect sample parts at DCM to confirm justification.
Machine Specifications
The DCM MPI 4562 - Max Part Length:62" Electrical System:230Volt, 1Phase, 150Amps Optional: 460Volt, 1 Phase, 75Amps. Capacity: 500 lbs, Floor Space required: 36" X 86", Weight: 1500 lbs. Tank Capacity: 25 Gal. Cycle Output: 5000 Amp FWDC
4000 Amp AC
7500 Ampere Turn Coil AC
24,000 Ampere Turn Coil FWDC
VERIFY SURFACE AND SUBSURFACE STRUCTURAL INTEGRITY IN:
*Industrial Crankshafts
*Ferrous Parts
*Aircraft Components
*Landing Gear Components

FEATURES
* Three selectable modes.
Up to 4000 amp AC.
2500amp HWDC.
5000 amp FWDC.
*Auto-Demag cycle.
*Pnuematic tail stock.
*Coil Diameters 16" or 20".
*Hood and Fan included.
---