Magnetic Particle Inspection / NDT at IMTS 2012
Product Announcement from DCM Tech Corp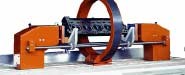 Stop by Booth N-6466 to see DCM at the IMTS 2012 Show 9/10-15
American made manufacturer!
*************************************
With over 30 years of machine design & manufacturing experience, DCM Tech has continually expanded its line of MPI non-destructive testing equipment. The comprehensive DCM lineup includes basic Coil Shot AC units as well as sophisticated multi-format AC/DC testers required in critical aircraft and industrial applications. Horizontal and vertically configured machines are available with a variety of options suitable for manufacturing and maintenance facilities. Our experienced engineering staff can also consider custom inspection solutions.
MPI 2400 AC multi-axis coil type MPI unit with remote cable test option. Automotive and industrial maintenance shops can all benefit from testing critical ferrous components on this machine. The compact MPI transformer module, remote cable option and detachable coil assembly lend themselves to field testing applications.
MPI 3624/4830B Vertically configured AC machine with coil and end shot testing of large diameter parts.This MPI series features 24" or 30" coils. Heavy castings, forgings, and machined components are easily loaded due to the vertical coil traverse and open access design. A stout roller supported turntable and powered coil traverse make testing and inspection easy. Variable power control and automatic de-mag are standard.
MPI 3062 AC multi-axis unit with coil and head head shot capabilities. Pneumatic tailstock clamping and sophisticated de-mag capabilities have made this machine the automotive crankshaft testing standard for many years. Bed lengths up to 100" and optional 20" coil allow testing of large industrial shafts and components.
MPI 4562AC/DC Multi-mode AC/DC testing for surface and subsurface inspection on critical industrial and aerospace components. AC, Half Wave DC, and Full Wave DC are all available to meet test specifications. A variety of coil diameters and bed lengths are available to suit a wide range of configuration requirements. Digital verification of testing cycle level is standard.
---