New: HD Air Disc Brake Rotor Tooling
Featured Product from DCM Tech Corp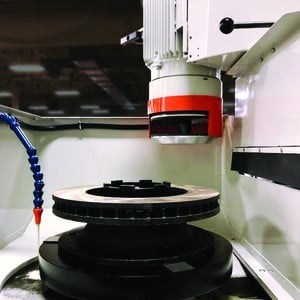 New stopping distance laws for tractor trailers have caused a changeover to new air disc brake systems in many big rigs. While this change increases the safety of these trucks it also drastically increase the price of maintaince as the brake rotors alone can cost as much over $1,000 per axel. DCM Tech can help.
Adding a DCM SG 7100 Brake Rotor grinder to your truck shop saves you and your customers money while helping trucks stop safely. The in-house enginering team at DCM Tech has been busy creating custom fixtures for most types of HD air disc brake rotors. If you have a part that does not work with our current fixturing, the team can work with you to make sure your parts are safely fixtured to the DCM rotary table.
DCM Tech's SG 7100 resurfaces heavy truck and auto rotors to OEM or better finish and accuracy in minutes. Crosshatch ground finish provides a precision friction surface assuring optimum braking performance and brake pad life. There is less stock removal than turning methods, keeping rotors in service longer, saving money and resources while providing a superior surface finish. Repair and Re-Use rather than replace, while increasing productivity! Rotors can be resurfaced in as little as 5 minutes with the easy to use bi-directional autofeed system. Wet grinding eliminates airborne dust and provides consistent results.