Punch and Die Grinder.
Product Announcement from DCM Tech Corp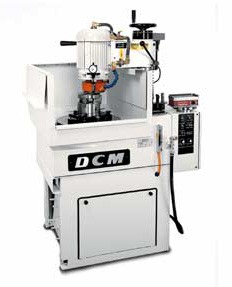 The Punch & Die Grinder (PDG) is dedicated to the sharpening of turret press tooling. It is a turnkey package with PLC autofeed control, self dressing CBN abrasives, through spindle coolant and universal fixturing that accepts Amada, Trumpf, Salvagnini, Finnpower, Weideman, Whitney, and other style tooling. Sharpen large station dies and rooftop/shear angle tooling up to 10 degrees with the standard fixturing package. Typical grind time is less than 5 minutes..
Look to the PDG for:
Reduce replacement tooling costs by as much as 40%
Reduce or eliminate deburring operations
Gain labor efficiencies
Payback period can be less than one year
Grinding Applications:
Sharpen Turret Press Tooling
Regrind Carbide Pump Seals
Grind Carbide Tooling
Sharpen Ironworker Tooling
Sharpen Progressive Dies
Regrind Dies Sets
Debur Stripper Plates
Machine Specifications
5 hp Grinding Spindle Motor
Universal Fixturing with Interchangeable 3 Jaw Chuck and Permanent Magnet
PLC Autofeed Control
18" Rotary Table
15 Gallon Recirculating Coolant System w/Basket Style Coolant Filtration
Dimensions 26" x 30" x 60"
Weight 1500 lbs
CE Mark PDG Available .
---