Reciprocating Table Surface Grinder
Product Announcement from DCM Tech Corp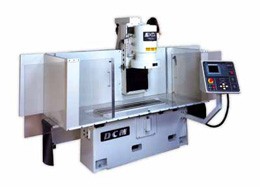 The IG 3820/5420 series of Vertical Spindle Reciprocating Table Grinders are versatile for both grinding and milling applications. The Servo Drive control provides accurate feed control for both the table and head movements. With each pass under the head, material can be removed from the entire surface area offering substantial productivity gains.
Grinding Applications:
Milling Plastic Medical Parts
Grinding Sputtering Target Materials
Grinding Glass Rods
Grinding Cast Iron, Aluminum, Alloy Steels etc...
---