Sapphire Core Grinder -- Stop by to DCM us at IMTS
Product Announcement from DCM Tech Corp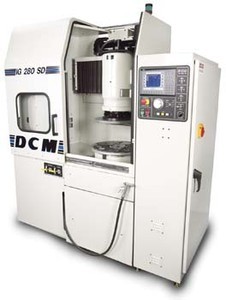 Stop by Booth N-6466 to see DCM at the IMTS 2012 Show
September 10-15, 2012 - Metal Forming & Fabricating/Laser
American made manufacturer of Industrial Surface Grinders, Rotary Table Surface Grinders, Reciprocating Table Surface Grinders, Punch and Die Grinders, Meet Plate Grinders, Tool Room Grinders, Aircraft Brake Rotor Grinders and Surface Grinders for Optical Fabrication.
*************************************
Grind sapphire cores and wafers in minutes not hours.
DCM customers have experienced as much as 14X productivity increase in grinding over conventional reciprocating surface grinding. DCM is a US machine tool builder of rotary grinders with factory direct sales and service. DCM offers grinder packages with small footprints, automatic feed and process repeatability that lends itself to lean manufacturing.
---