Metronome L Suspended Interior Ceiling Lighting
Product Announcement from DELTALIGHT UK Ltd.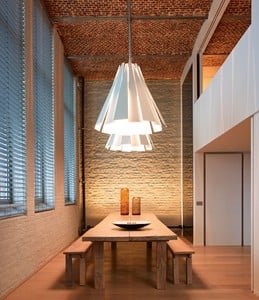 The Metronome hanging lamp by fashion designer Tim Van Steenbergen is an essential accessory in a city like Milan. And not just because there's the link with the world of fashion. Its decorative nature will also appeal to visitors. With its aluminium strips, the Metronome brings a play of light and shadow into the space. Divine to look at, both in retail or residential applications, the Metronome was already available in the usual version (39 cm), as well as in the Metronome H version (55 cm) and the large-format Metronome XXL (210 cm).
Now there's also the Metronome L, an in-between size, which is 91 cm high.
ABOUT DELTALIGHT®
DELTALIGHT® is a global company and we are recognised as being one of the world's largest and most prestigious architectural lighting manufacturers. We offer an extensive lighting collection for interior and exterior use, including an 'eco' and 'bathroom' range.
We can also offer you a complimentary lighting design and technical information service, with the capacity to provide lighting calculations and project visualizations.
0870 757 7087
---