Screwdriving Machine
Service Detail from DEPRAG, Inc.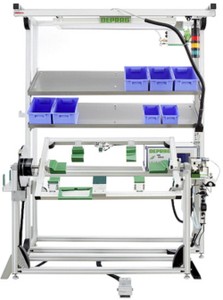 DEPRAG Manual Workstation for the Assembly of Car Door Interiors
Function Description:
Once the part is loaded into the part fixture and the Opto-Touch Buttons are activated, the part is securely clamped into position. Since the individual screw locations need to be accessed using different angles and recesses, the part fixture is designed to swivel along its horizontal axis by 300-degrees. This feature allows the effortless access of all screw locations.
The Operator removes each individual screw from a Screw Presenter, using the DEPRAG Minimat-F Screwdriver. The screws may be fastened into the part using any desired pattern. The Screwdriving Controller is programmed for various parts, which need to be assembled using different number of screws. Only after all screws were completely assembled and the assembly had no errors (O.K.), then the part fixture will automatically unlock the part and it may be unloaded. The operational process is controlled using the DEPRAG LC-Controller and the cycle status is displayed on a Multi Beacon-Light.
This months' workstation was manufactured for an automotive sub-supplier.
The requirement was the handheld assembly of various interior door components, which require a certain amount of differently angled and recessed screws.
Solution:
One Deprag Manual Workstation, consisting of the following components:
Base Frame with 3D – Part Fixture, which can be tilted along its horizontal axis by 300-degrees.
Minimat-F – Screwdriver Model No. 347F-428
PF – Controller Model No. PC10
Screw Presenter Model No. SG1211-ES/45
OPTO – Touch Start Button
Screwdriving Controller Model No. LC124
Multi Beacon-Light to display the operational process