Screwdriver Station
Service Detail from DEPRAG, Inc.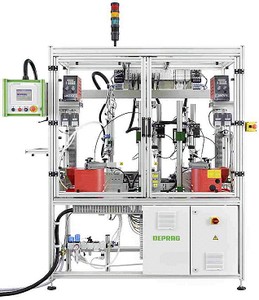 Cycle Description:
This automatic station is part of a DEPRAG built machine park, consisting of 14 individual Stations.
A pallet, loaded with two bearing-cap halves, arrives at the pre-stop station and the pallet contents are verified in regards to the correct engine style. The relay roller-bearing is automatically fed (blow-feeding) and press-inserted at Station 1. Simultaneously, the timing-belt holder is inserted. On Station 2, the adhesive is applied - using centrifugal force and a rotational motion - to the two halves of the bearing-cap. On Station 3, an activator is vertically applied to the same bearing halves. A data block attached to the pallet, documents every operational step.
Additionally, the time when the adhesive was applied is stored. This helps to avoid a late insertion of the bearing into the bearing cap.
The next machine inserts the bearing. However, the insertion process has to be made within 3 minutes from when the adhesive was applied, otherwise the hardening process would already have started.
A beacon light indicates the machine status.