DCAM - Compact Assembly Machine From DEPRAG
Service Detail from DEPRAG, Inc.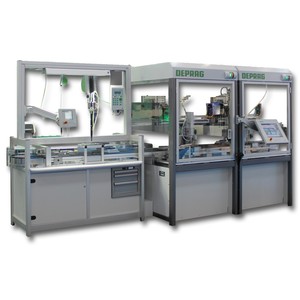 Having carried out a number of trials with commercially available axes, all without success, DEPRAG came to the conclusion that none of them met our requirements as regards the typical loads created by screwdriving assembly work, such as torque reaction and mass loads. We therefore developed our own axis system, tailored to withstand screwdriving processes, to guarantee the high level of operating reliability and the dependability of our assembly platform. This also makes it possible to achieve an acceleration in X and Y direction of up to 5 ms²."
The new standardized DCAM is available in two versions. Version A provides a maximum effective distance of movement of 400 millimeters for the X-axis, and 250 for the Y-axis. In version B the X and Y axes each travel up to 600 millimeters. An optional Z-axis likewise developed for use in the DCAM, and which can also be easily retrofitted to an XY system, has a useful travel range of 160 millimeters and requires less than a second for its total stroke. At 45 millimeters, the Z-axis too has a very flat design for material flow on an automated linear transfer system.
Work pieces can be fed into the new DCAM manually or in a fully automated process. In the case of a manual feed, this is done by means of a sliding carriage or a rotary index machine, as the customer prefers. A linear transfer system takes care of the fully automated component feed procedure. Depending on the application, operator safety is ensured by means of a safety door or light curtain.
Application Areas of the DCAM:
The DCAM is the ideal solution for your application where several assembly tasks (or assembly lines), must effectively be processed, in a precise and expedient fashion. Particularly, our expertise and the extensive repertoire of our standard products will be helpful with the following applications (assembly tasks):
Screwdriving
...achieved by the use of a Screwdriver Function Module (SFM) with a stationary Screwdriver, available in the most different designs, and perhaps including our transducer technology as well as corresponding Screwfeeder.
Labeling of:
Labels
Tags
…through vacuum- or magnetic-, pressure- or form-positive grippers.
Testing of:
presence, pressure, temperature, position, function, etc.
…achieved by the use of contact- and non-contact sensors and a correspondingly defined measuring electronic.
Lubricating
…achieved by the use of a metering valve with nozzle, mounted to the Z-axis and connected to a dispenser unit.
Mating with:
pick- and place unit, or vacuum suction, etc.
…in combination with the corresponding feeding system, such as a tape-on-reel feeder
Marking with:
punching-, labeling-, lettering-, pad-printing, etc.

Play DCAM - Compact Assembly Machine From DEPRAG Video