Automatic feeding of screws with square washers
Featured Product from DEPRAG, Inc.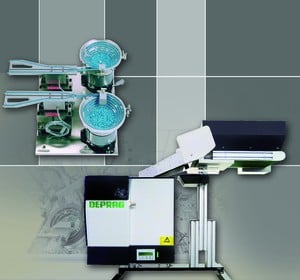 DEPRAG now offers assembly systems and feeders for the feeding and tightening of screws having a square washer. Two different systems are available: either pick & place system or feeding through a feedhose. The pick & place system consists of a vacuum finder that captures the screw over the head and holds tightly onto the washer. As can be seen on the video clip, the vacuum finder is square as well, so that it perfectly fits to the screw. When the screw is long enough to allow blow-feeding, then we use a profile feedhose, which is also square and we blast each screw to the automatic screwdriver, where the screw is being held until the bit strokes down to engage the screw and drives it to torque. The screwdriver can be either pneumatic or electric. Please watch the video clip for more information.