Automotive Construction made easy with DEPRAG
Featured Product from DEPRAG, Inc.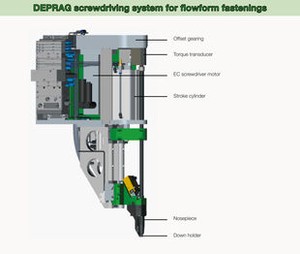 Regardless of whether the car is powered by an electrical drive system, a hybrid drive, or has a conventional combustion engine - the lightweights will come out on top! However, car bodies must lose none of the necessary rigidity. There is a lot of experimenting going on with suitable compound materials, combining different metals such as steel and aluminum. This means a rethinking of the assembly process. With these material combinations, conventional fastening techniques such as resistance welding are extremely impractical and other joining processes need to be applied. Fasteners, such as rivets are experiencing a revival, if access to the fastening point is possible from both sides.
If access from both sides is not possible, an alternative fastening process is required. In such cases, screw fastening made with flow drilling screws have come to the forefront as a solution to the problem.
The new DEPRAG system is recommended principally due to its ability to adjust flexibly in places where space is very limited. Robot screwdrivers are specially designed to deal with situations where space is limited. By using a 1:1 ratio offset gear to offset the drive motor and screwdriving axis to the side, the screwdriving system can now access screw positions located as little as 10-millimeters away from an obstacle! The screw module can turn in any direction, so can be easily deployed in any position. The new system can be adapted to any flow drill screws supplied by all well-known suppliers. For the spindle drive motor, DEPRAG uses the tried and tested EC-motor from the MINIMAT™ and MICROMAT™ series with a speed of 6,000 rpm and torque of 15 Nm. An air cylinder provides the forward feed for the screwdriver's connection with the fastener. A proportional valve controls the air cylinder. The down-force for the screw process (max 3,000N) is also regulated by an air cylinder using a proportional valve. The 1:1 lateral offset ratio of the EC-motor gear keeps the screwdriver structure slim, and is the reason it can be deployed even where space is very limited. A strain gauge transducer at the motor spindle controls the torque.

Play Automotive Construction made easy with DEPRAG Video