CleanFeed-the right concept to eliminate particles
Featured Product from DEPRAG, Inc.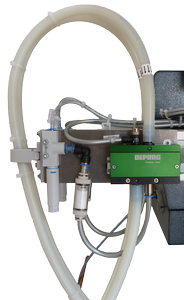 In our CleanFeed system we have developed a comprehensive concept for technical cleanliness, which includes decades of knowledge in regards to which process to use, what solution to offer and which components to develop especially for technical cleanliness.
Here are several components that help in minimizing harmfull particles:
Use Sword feeders as an alternative to vibratory bowl feeders
Integrate vacuum source (i.e. DEPRAG particle killer)
Use vacuum fittings & particle filters
When a factory needs to create clean room production facilities they need to choose a machine builder who offers every key aspect of screwdriving systems from their own range of manufactured tools. That is the best way of ensuring that each component and each individual process, such as feeding, positioning, and screwdriving is harmonized to each other. The entire process can be examined, evaluated and enhanced with technical cleanliness in mind.