DEPRAG Flow-Form Screwdriving System
Featured Product from DEPRAG, Inc.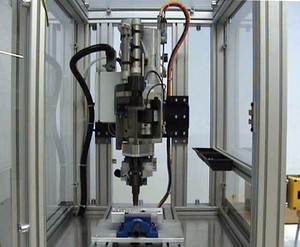 The new DEPRAG flow-drill system is perfect for FDS assemblies, because it can adjust to places with limited space. Robotic screwdrivers are specially designed to deal with limited space situations. DEPRAG offsets the drive motor and screwdriving axis and can therefore access locations as close as 10-millimeters to an obstacle (0.393 inches) away from an obstacle! The screwdriving module can be turned in any direction, and simplifies the deployment into any position. It incorporates an adjustable force from 150 - 1,800 N (34 - 405 pound force). This automation system utilizes already established product lines such as the proven MINIMAT-EC screwdrivers, DEPRAG feeding equipment, as well as its controllers that have proven themselves many times over.
The advantage of this type of screwdriving system is that one cycle actually eliminates individual steps and combines them into one process. This means:
- No drilling required
- No tapping required
- No die-cutting required
- No chips are created
- No coolant is needed
- No securing (i.e. nut) required
- Less processing time
- Less material handling

Play DEPRAG Flow-Form Screwdriving System Video