Easy Roller
Service Detail from DEPRAG, Inc.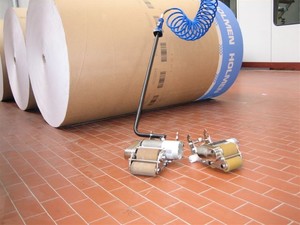 The air vane motor powering the drive roller is a small, compact powerhouse, which was developed and designed for this sole purpose by DEPRAG SCHULZ GmbH and Co. in Germany. The Bavarian specialist for air motors has been dealing with this mode of drive for several decades, and thus offers a diverse catalogue range detailing high quality air motors for all industry sectors. Project manager Dagmar Dübbelde asserts, "If there is not a standard motor available for the customer's specific application, our engineers will certainly find a solution with an appealing price-quality ratio in mind." The air vane motor described here features a capacity of 1.2 kW. With a length of 218 mm and a diameter of 100 mm, it only weighs 9.1 kg. It is right rotating, has an idle speed of 100 rotations per minute and a nominal torque of 500 Nm.
What makes air vane motors the best option for powering the "Easy Roller"? There are many advantages in using air motors. Most importantly perhaps is their large power density. Depending on the model, they only require one-fifth of the electric motor's net mass or one third of the overall size. At various speeds, the performance delivered by the air motor, is almost constant. Thus, it can be optimally operated over a wide range of varying loads. The engine power is continuously controlled by throttling the air volume. The motor will never be overloaded. It withstands additional strains until brought to a standstill and runs effortlessly afterwards. This process can be carried out as many times as required.