End-of Arm-Tooling-Grinding & Polishing Automotive
Featured Product from DEPRAG, Inc.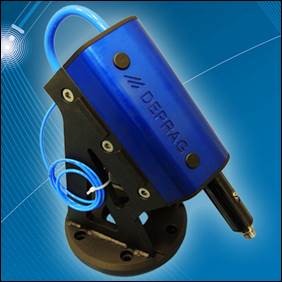 We are proud to introduce a new DEPRAG-Industrial product, the D-I End-of-Arm Grinding Module.
This product was specifically developed for the automotive industry, but can also be used in any other
industry where there is a need for a stationary grinding- or polishing station.
The Model No. is a MA 070-153V/S1. The grinder has a power output of almost 1HP and the main advantage is
that it is a complete, compact, easy-to-integrate and adjustable grinding module.
DEPRAG had to overcome some important requirements of the client, which was to have our grinding module interface with their own controller. This will help limit downtime and interruptions.
Also, we set-up the grinding-module in such a way that it would not limit the robot's freedom of movement. The grinder is connected to a pneumatic cylinder that exerts a defined axial force on the grinding tool. Spindle overload can be adjusted in a range between 1.0 to 6.3 bar. This method allows us to implement a delicate contact-pressure without having the need for an additional regulatory circuit.
For more information and detailed specifications, please refer to the attached Newsletter, which has also been placed onto our Website at
http://www.depragusa.com/files/newsletters/Robotic_Grinder_Polishers.pdf
There is also a detailed product catalog available; please click on the following link to view/download: