Energy-Efficient Step Feeder System
Featured Product from DEPRAG, Inc.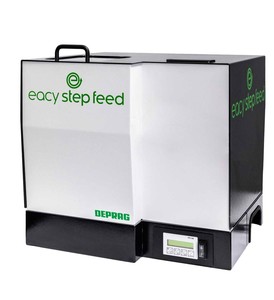 The new "eacy step feed," now enables the efficient, intelligent, and technically clean feeding of even longer screws!
The complete system, including a storage container, material-handling technology, linear conveyor, separator, housing, and controller – specially designed for longer screws – offers a hassle-free and reliable operation with 24V technology, independent from mains voltage and mains frequency. The DEPRAG step feeder system combines all the advantages of a step feeder with the outstanding energy-efficiency of DEPRAG's vibration and regulating technology.
The material is quietly fed in stages over linear feed plates from the storage container towards the feed rails. A brushless electric motor, managed by the smart energy efficient DEPRAG eacy feed PFC100 controller, is used to drive the feed plates. The conveyor speed, which can be controlled directly via the linear conveyor, supports the gentle feeding of parts.