Lose That Feedhose!
Featured Product from DEPRAG, Inc.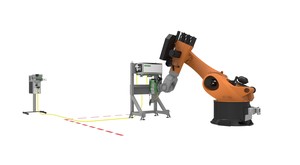 The material mix used in the modern automotive body construction, as well as the one-sided and rather limited accessibility of the assembly positions, are a perfect reason for the use of a DEPRAG Flow-Form Screwdriving Unit (D-FFS).
Furthermore, the geometry of a vehicle body requires extreme mobility from the robot and the FFS-unit. Extreme movements and stability of the robot are necessary for difficult-to-reach screw positions. The screw feed-hose dressed alongside a robot arm may inhibit reliable delivery of the screw to the FFS-unit. This will cause interruption of the production run, reduce process reliability for the overall system, and result in considerable downtime.
The DEPRAG-Magazine-System offers a solution that can be installed to any DEPRAG-FFS-Unit, even at a later time. The magazine system consists of three basic elements:
• screw-magazine
• magazine-RXS (reload and exchange station)
• screwfeeder
While one magazine is docked on the FFS-Unit and in operation to systematically feed up-to 31 fasteners, a second magazine is being filled in the Magazine-RXS by the screwfeeder. The screwfeeder, located out-side of the robot work area, feeds screws to the magazine-RXS located inside the robot cell. If the mounted magazine is (partially) empty, the robot unloads it at the magazine-RXS and picks-up a full magazine to continue with the assembly. This solution assures the best possible cycle time while guaranteeing the topmost process reliability.