Pneumatic Pliers
Featured Product from DEPRAG, Inc.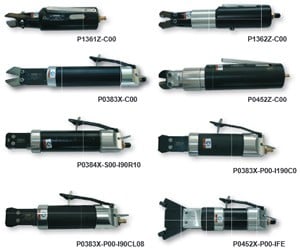 Air pliers are suitable for the industrial use for example in the automotive industry, in machine building industry, in the appliance industry as well as in maintenance and assembly departments.
Hand-held pliers for the use of:
Cutting
Angle Forming and Flattening
Sealing Operations
Pressing
Mounting clamps
High Power
- max. cutting force 8700 N
- max. squeeze force 4500 N
Easy Handling
Long Lifespan
Advantages
Pneumatic pliers for the use of:
• Cutting Cu, Al, Ag, plastic materials (PVC, PF) and steel max. 400N/mm2/25 long tons/sq.in
• Simultaneous cutting and wire-end flattening or
• Simultaneous cutting and 90°angle forming of wire ends of electronic components
• Sealing operations
• Pressing of cable joints
• Mounting of CLIC-, COBRA-, hose- or spring clamps
Easy Handling
The favorable weight/dimension to power ratio (max. cutting force 8 700 N, max. squeeze force 4 500 N) makes them very handy and easy to work. The plier inserts can be operated in any cutting position by turning the complete plier head against the plier body and lever. The jaws of the plier inserts are separately supported in the pliers head and therefore extremely easy to operate.
High Power
Max. cutting force 8 700 N. Max. squeeze force 4 500 N
Long Lifespan
The most modern technologies applied to thermal processing, guarantee the high lifespan and reliability of all our plier components.
Plier inserts for cutting are available in two designs:
-Standard execution for cutting metals.
One insert side has an edge for cutting, the other insert side is designed as a counter-holder. This eliminates a possible crossing of the inserts and the extensive wear of the insert joint. When cutting soft, flowing materials, an overlapping of the inserts results in uneven cuts or nicks.
-Special execution for cutting plastic materials.
Both insert sides are equipped with a cutting edge.