Powerful Air Vane Motors
Featured Product from DEPRAG, Inc.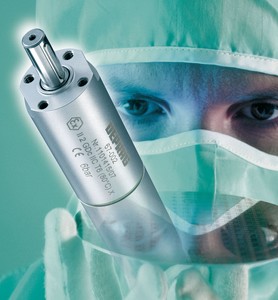 We can supply interesting alternatives for drive- and control-options that fit our powerful air vane motors and that are pretty much suitable for all industries.

For individual applications, DEPRAG offers custom motors, which may be based on a combination from our flexible kit-system as well as on our standard catalog program:
Basic Line
Robust motors for a normal production environment.
Additionally our patented vane exchange system enables you to save valuable production time.
Advanced Line
Our wide product spectrum includes stainless steel vane motors from 20W to 1200kW.
Power Line
High performance motors from 1600W to 18kW.
Grinding, Milling and Drill Motors
For incorporation into your machine – You get a high performance machine and save space.
Brake Motors
The low cost complete solution: Customers benefit from our standard program of air motors with integrated brake equipment.
Individual Line
Great value customization based on our modular principle, from an individually designed motor or a customer specific package deal up to a complete system solution.
Functional Principle Air Vane Motor
Bearing Cover Rotor Vane Rotor Cylinder

The air-pressure energy is transferred into a kinetic energy (rotation of the rotor), by the expansion of the inlet-air in the operating chamber.

Vane Clip

Air-Motor with forced-start feature
Patented Vane Exchange - Simple exchange of vanes without disassembly of motor
High Longevity - Special surface coating, use of customized canes
ATEX-Conformity -
Short Deliveries - Short deliveries because of own production capability and high production depth
Flexible Material Selection - Stainless, Cast Iron, Aluminum, Non Ferrous Material: Ceramic/Plastic