SCREWDRIVING MACHINE
Service Detail from DEPRAG, Inc.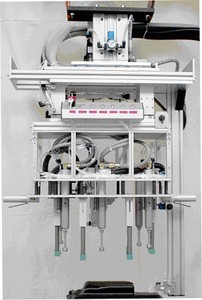 This system consists of six (6) size-3 MINIMAT Screwdriver Spindles, with integrated function feedback port and spring-loaded lateral guide bolt. The system is designed for the operator to select the operation of either five (5) or six (6) spindles; this depends on the product to be assembled.
The Unit is integrated into a conveyor system, which was provided by the customer.
Cycle Description:
The conveyor delivers the product to the lift/locate station underneath the assembly unit. The Operator loads a fastener into the magnetic socket on each spindle, selects the required number of spindles on the selector pad and presses the two start-levers simultaneously. The complete machine moves forward and positions the Screwdriving Unit above the assembly axis. The limit switch recognizes that a part is present and the screwdriving unit moves down to position the Screwdriver Spindles above the part. Once the Operator presses the start button, the screwdriver spindles start at a reduced speed to allow the correct engagement of the socket and fastener to the part. Shortly thereafter, the screwdriver spindles switch to their full speed and assemble the fasteners to the specified torque of 11 Nm.
Integrated lights indicate OK or NOT OK assemblies.
---