Screwdriving Machine
Service Detail from DEPRAG, Inc.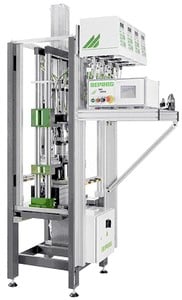 Cycle Description:
The illustrated Manual Workstation [HAP], for the assembly of a pump cover to a pump housing, is part of a conveyor-integrated machine park, consisting of several individual stations, which completely assemble pumps. The customer is GRUNDFOS UK.
· The operator loads the pump housing into the part fixture from the left, loads the cover over the pump housing and inserts 4 screws, which he hand-starts by approximately one-half turn. The LC-Controller is programmed for two different pump housings and it instructs the horizontal clamping cylinder to accurately grip the housing prior to the start of the assembly process.
· Once the operator has selected the appropriate housing, he manually pushes the sliding part fixture into the machine, until it dead-ends on a stopper. Thereafter, the operator presses the OPTO-Touch-Button and the safety-doors close. Using a lift-locate station, the pump is moved under the screwdriving station and the horizontal clamping cylinder locates and locks the pump into position to avoid an involuntary movement of the part fixture during the screwdriving process.
· The EC-Spindles move down and the Depth Control verifies that each Spindle is positioned exactly on top of the required screw location. To align the cover, the 1st tightening process assembles the screws to a torque of 2.5 Nm [22.1 in.lbs.] and immediately thereafter, the second tightening process assembles the screws to a final torque of 6.5 Nm [57.5 in.lbs.]. The Display shows whether the assembly was OK or NOT OK. The EC-Spindles retract, the clamping cylinder opens and the completed pump is placed back onto the moving conveyor. The Safety Doors open and the pump moves to the right and out of the Manual Workstation to the next machine.