The "eacy feed" vibratory bowl feed from DEPRAG
Featured Product from DEPRAG, Inc.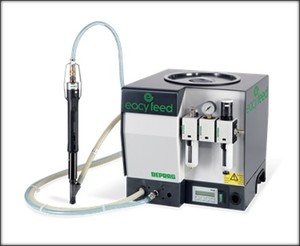 Intelligent and efficient feeding with the "eacy feed" from DEPRAG
"eacy feed" (efficient assembly communication yield) is the next generation vibratory bowl feeder. Just in time for the MOTEK, DEPRAG presents its innovative new development: energy-efficient Industry 4.0-capable feeding machines.
"eacy feed" devices are distinguished by dramatic energy savings of 80% in comparison to the previous generation of vibratory spiral feeders, which were themselves already very energy-efficient. The extremely high energy efficiency of the "eacy feed" is achieved through the use of 24 V oscillating magnets. The low voltage enables smooth and trouble-free operation, global application of the "eacy feed" devices without the need for country-specific alterations, and they are also not affected by network disruptions or varying local power supplies (voltage and frequency). There is also a smart version available for Smart Factory systems. The Industry 4.0-capable "eacy feed" version communicates with the DPU (DEPRAG Processing Unit) via a specially developed software module that allows, among other things, a flexible regulation of frequency and amplitude. Communication with the DPU is via TCP/IP, which enables access to the DPU from anywhere in the world via smartphone, tablet or PC.