DFT'S Non-slam Check Valve Full Catalog
Featured Product from DFT Inc.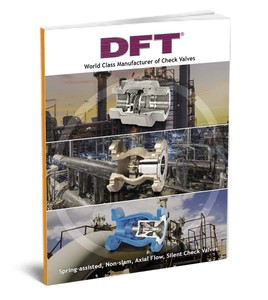 DFT in-line check valves began over 75 years ago with a customer's need for a small metal-seated check valve that could be installed in any position while providing tight shutoff. The Basic- Check® valve was developed to satisfy that need.
Over the following decades, other customers' needs led to the development of the ALC®, DLC®, DSV®, Excalibur®, FBC, GLC®, PDC®, SCV®, TLW®, WLC® and Y-Calibur styles of axial flow, nozzle style, non-slam silent check valves. Each of these DFT check valves addresses the particular needs of today's customer. DFT's objective is to diagnose check valve problems, provide solutions and prevent failures.
DFT has learned by listening to customers like you that each industry has special needs that can exceed other check valve designs. We specialize in providing in-line check valves that meet customer requirements as opposed to simply meeting line size. In some cases, minor modifications to our valves have solved customer problems while improving performance and extending service life. The Check Valve Doctor™ continues to grow from satisfying these needs and solving problems, supported by quick response manufacturing and relentless quality control. That's why DFT non-slam check valves are known around the world as the valve to use to prevent or eliminate water hammer problems. Whatever your size, pressure or piping configurations, DFT has a check valve for you.
Download the pdf catalog here: http://dft-valves.com/pdf/Check-Valve-Catalog.pdf