DFT-The Answer to Failing Double Door Check Valves
Featured Product from DFT Inc.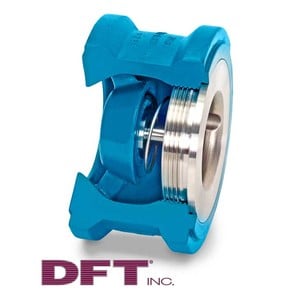 The DFT® model ALC® easily replaces unreliable double door / butterfly check valves.
-- No more door springs or hinge pin failures
-- No more leakage due to misalignment of the doors and seat
-- No more internal parts going downstream
-- No more reverse flow
The DFT ALC® is an in-line, spring-assisted, center guided "wafer" check valve designed to prevent "water hammer" and "reverse" flow. Watch our Video.
The lightweight compact design fits between mating flanges and meets API 594 Face-to-Face dimensions. The ALC is an easy to maintain check valve for applications involving liquids, gases or steam. Tapped holes are provided in the body for lifting lugs to assist with installation.
API 594 Face-to-Face dimensions
Wafer RF ends
Spring-assisted silent closing
Sizes 2" thru 24"
Horizontal or vertical installation
ASME Class 150 and 300
Standard body materials:
- A216 WCB
- A351 CF8M
Stainless steel seat, disc & bushing
Nitronic 60 stem
Inconel® X-750 spring
Seat leakage per MSS SP-61
Tapped holes in body for lifting lugs
Options: - Soft Seat / * NACE / - 316 SS spring / - Custom sizing-low flow
For the ALC Non-slam Check Valve features and Cut Sheet - Click here
About DFT Inc. DFT Inc. manufactures world-class, problem-solving, in-line, axial flow, nozzle style silent check valves, and severe service control valves.
We provide cost-effective application engineering assistance, rapid prototyping, and fast-turn initial production. Our staff responds quickly and our systems are designed to deliver reliably within our ISO9001-2015 quality management system. For more than seventy-five years DFT has solved check valve problems, prevented check valve failure and water hammer and solved severe service control valve problems.
For further information on all DFT's Non-Slam, Silent Check Valves visit our website @ www.dft-valves.com - or contact us at dft@dft-valves.com - or phone 1-800-206-4013.