DFT Axial-Flow, Nozzle Style, Silent Check Valves
Featured Product from DFT Inc.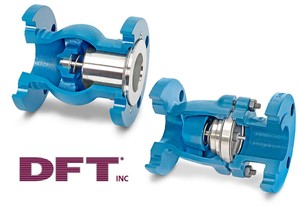 DFT's silent check valves are known around the world as the valve to use for preventing or eliminating Water Hammer problems.
DFT® in-line, axial flow, silent check valves are spring assisted valves that can be installed either horizontally or vertically and can be sized for your specific application. They are designed to eliminate reverse flow and provide safety, longevity, and efficiency to fluid flow systems.
In-line check valves can be used in the following applications:
Compressor discharge
Pumps
Boilers
Water treatment
Generators
Cooling towers
Condensate lines
Evaporators
Crude and refined product lines
Steam lines
Vacuum lines
Breakers
Metering pumps
Hydraulic lines
Air lines
Compressor inlet
Pressure letdown
and more!
Whatever your size, pressure or piping configurations, DFT® has a check valve that's right for you.
Contact us to talk with a valve expert in your area.

About DFT® Inc.
DFT® provides cost-effective application engineering assistance, rapid prototyping, and fast-turn initial production. Our staff responds quickly and our systems are designed to deliver reliably within our ISO9001-2015 quality management system. For more than seventy-five years DFT® has solved check valve problems, prevented check valve failure and water hammer and solved severe service control valve problems.
Contact us:
DFT Inc. • 140 Sheree Blvd. • Exton, PA 19341
Web site www.dft-valves.com
E-mail Company dft@dft-valves.com
Phone:(610) 363-8903 or (800) 206-4013 or Fax:(610) 524-9242